Dental Crowns in Leesburg, VA

A crown is a cover or "cap" your dentist can put over a tooth. The crown restores the tooth to its normal shape, size, and function. A crown can make the tooth look better cosmetically, as well as make the tooth stronger.
Reasons you may need a crown:
There is a cavity that is too large for a filling on your tooth
Your tooth is cracked, worn down, or otherwise weakened
You've had a root canal treatment--the crown will protect the restored tooth
You want to cover a discolored or badly shaped tooth and improve your smile
Steps of placing a crown
It usually takes 2 dental visits to complete the treatment. When a crown is placed over a natural tooth, several steps are involved in the procedure:
Your dentist prepares the tooth by removing its outer portion so the crown will fit. Any decay on the tooth is also removed. If additional tooth structure is needed to support the crown, your dentist may build up the core of the tooth.
An impression is made to provide an exact model for the crown. The impression can be made from a mold or by digitally scanning the tooth in office.
You may get a temporary crown while you wait for the permanent crown to be made. This usually takes 7-10 business days. While you have a temporary crown, the tooth may be sensitive to hot or cold foods and drinks. So be sure to avoid chewing gum and eating sticky foods during this time.
When the crown is ready, your dentist places it in your mouth and makes the necessary adjustments. When you and your dentist are satisfied with how it looks and feels, the crown is then cemented into place.
Caring for your teeth with a crown
Just like natural teeth, crowns can break. The tooth under the crown can still get cavities, but to prevent cavities or damage to your crown these are steps you can follow:
Brush your teeth twice a day and floss between your teeth every day.
Look for oral care products that have the American Dental Association's Seal of Acceptance, which tells you that they meet ADA standards for safety and effectiveness.
Avoid chewing hard foods, ice, or other hard objects, especially if you have tooth-colored crowns.
Be sure to see your dentist for regular exams and professional cleanings.
Crowning or Capping a Tooth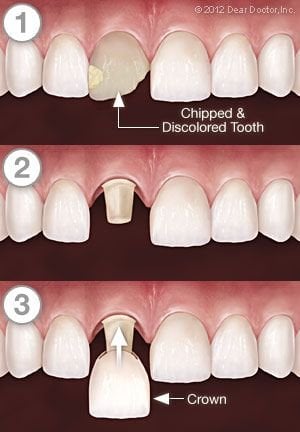 Crowning or capping a tooth will usually take 2 visits. At the first visit, your tooth is prepared to receive its new crown. First, it is shaped to fit inside the new covering. This will involve some drilling to give the tooth a uniform shape. The tooth and the surrounding area will be numbed beforehand. If there is very little tooth structure left to begin with, the tooth may have to be built up with filling material, rather than filed down, to support the structure.
After the tooth is prepared, impressions of your teeth are taken, either digitally or with reliable, putty-like impression materials, and sent to the dental laboratory. There, the impressions will be used to make models of your teeth for the creation of a crown. The models will serve as guides to the highly skilled lab technicians, who will ensure that your new crown is designed to enhance your smile and function well within your bite.
Before you leave the office, a temporary crown will be attached to your tooth to protect it until the permanent crown is ready. At the second visit, your permanent crown will be attached to your tooth with either a resin that hardens when exposed to a special light source, or a type of permanent cement.
Creating a Bridge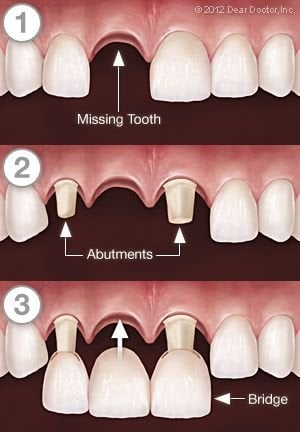 Crowns can also be used to create a lifelike replacement for a missing tooth. This is done with bridgework, which spans the space of the missing tooth and requires at least three crowns. Two of those crowns will be placed over healthy teeth on either side of the missing tooth; these healthy teeth are referred to as abutment teeth. The two crowned abutment teeth become supports for a third crown placed in between them; that third crown is referred to as a pontic. If more than one tooth is missing, more crowns will be needed to bridge the gap in between the abutment teeth.
The number of abutment teeth necessary to replace missing teeth is influenced by the number of missing teeth, the size and length of the abutment tooth roots, the amount of bone support each abutment tooth has, as well as where in the mouth the missing tooth is located. For example, if you have three missing teeth, four abutment teeth may be necessary, thereby creating a seven-tooth bridge. Engineering and designing of the bridge requires an understanding of how to replace teeth, as well as the biology of the supporting gum and bone tissue.
Caring for Your Crowns & Bridgework
Crowns and bridgework require the same conscientious care as your natural teeth. Be sure to brush and floss between all of your teeth — restored and natural — every day to reduce the buildup of dental plaque. When you have crowns, it is even more important to maintain your regular schedule of cleanings at the dental office. Avoid using your teeth as tools (to open packages, for example). If you have a grinding habit, wearing a nightguard would be a good idea to protect your teeth and your investment.
Want to learn more about dental crowns from Gentle Family Dentistry of Leesburg?
Call our Leesburg, VA office at (703) 737-0070 today to book an appointment